Bob Valenzuela says...
Here today, gone tamale
Hollister Free Lance News
, Friday August 22, 1997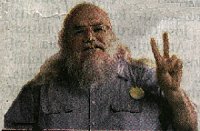 makes them I never felt quite comfortable in doing so. But local restaurant critic Wayne Gordon in the last "Let's Go!" magazine claimed they're excellent. Here's a tip on how to enjoy them even more "excellenter."
When you order them ask them to hold the sauce or bring the sauce on the side. Mexican restaurants traditionally like to pour red sauce on tamales and enchiladas and most people like it that way. My wise old madre always put the sauce at the ready and we could use it to our own taste. What a concept.
I think the full flavor of Progresso's biggest seller can best be appreciated as they are. Here's tip No. 2: when you go to Progresso's (especially if you order the one-item combination plate with rice and beans) for a buck more you can add another tamale, chile relleno, enchilada or taco and it's too much for one sitting so you take some home for a great next day lunch. Lunch for a dollar extra. Such a bargain.
There is a reason Progresso's has been in business in Hollister for over 50 years. One big reason is that they're family friendly. Their kids menu introduces non-Mexican children to the joy of something other than pizza and burgers. Personally I go for the tamales and the atmosphere — like being in the front room of my Tia Juana's. Double Aye chee waa waa!