Progresso Tamale Parlor 50th Anniversary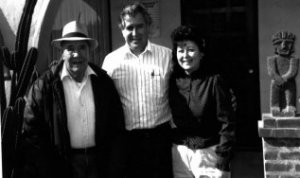 Vicente, Aurelio & Patsy Zuñiga
Hollister Free Lance News - Aurelio and Patsy Zuñiga, along with his father Vincent, definitely have cause to be proud. This year, the Zuñiga family celebrates the 50th Anniversary of their family business — Hollister favorite, Progresso Tamale Parlor. "We are having a year-long party" says Aurelio.
Local residents (and visitors) continue to enjoy traditional tamales and sauces, handmade daily at the Zuñiga Family Tamale Factory on Wright Road. "We use only the freshest of ingredients. We still grind our own chile and corn everyday" says Aurelio, who also encourages customers to make selections from his expanded menu, which includes many family specialties.
Progresso Tamale Parlor offers a complete lunch menu, Tuesday through Friday (11 a.m. to 2 p.m.). Dinner is served Tuesday through Friday (5 to 8:30) and Saturday-Sunday (4 to 8:30).
This third generation family establishment, conveniently located at 230 Third St., has truly become a staple in our community. Aurelio and Patsy extend a heartfelt invitation to their Hollister neighbors to "Come in and help us celebrate our 50th." See you there.