Hot Tamales — Masa Dish A Season Tradition for Hollister Family
The Pinnacle, December 2, 1999
Hollister - Two days before Christmas, in an old factory on the outskirts of town, the members of one Hollister family will gather for some hands-on holiday cheer: making tamales.
It's a tradition that dates back to 1939, when a man chased out of Mexico by Pancho Villa opened Progresso's Restaurant downtown. That year, Aurelio Zuñiga made tamales to remind himself of the old ways and of the culture he had left behind. By 1946, Progresso's had grown busy enough that Zuñiga built his own factory on Wright Road. This year, another Aurelio Zuñiga - the first man's grandson - and more than two dozen of his relatives will gather at the old man's tamale factory to make some 400 tamales in four hours to keep in touch with their heritage, and each other.
"It's a tradition," Zuñiga says, sitting in Progresso's dining room as his wife, Patsy, worked to prepare the restaurant for the downtown holiday shopping season. "We all get together before Christmas to maintain our tie to the culture."
For Zuñiga, as for other Hollister residents, tamales are powerful reminders of the Christmas traditions of Mexico. As a child, Zuñiga made corn masa out on Wright Road with his grandfather, who was a staunch perfectionist in matters of corn. Zuñiga recalls that there were years when his grandfather insisted on growing his own husks to wrap his tamales.
Zuñiga's father, too, was a stickler for traditional ingredients. "My father would sell masa to make tamales, and we would make it from fresh corn," Zuñiga says. "There were days when he would be out there at 3 in the morning working." Holiday-time tamales are a staple for many families, and between now and the end of the year, Progresso's will sell some 3,000 tamales for celebrations and everyday eating. People travel to Progresso's from San Francisco, San Jose, and other far-flung Bay Area cities to buy tamales and get back in touch; "people who knew the family will come in to get them," Zuñiga says.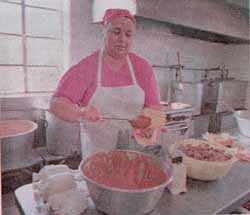 Liz Valenzuela
For 22 years, Liz Valenzuela has made the tamales that Progresso's sells. The air inside the tamale factory is spicy with the scent of chilies as she works on a recent Saturday morning; a flood of bright sunshine comes in the window next to the stainless steel stove where a pot of sauce simmers. Not much has changed here since the days when Valenzuela's mother worked here, in front of this same stove and window, with its view of the fields outdoors. "I learned from her," Valenzuela says. "I have a picture of me, six years old, standing next to my mother here."
As for Aurelio Zuñiga, as he sits in Progresso's dining room - with preparation for the holiday season swirling all around him - he does have one small confession to make. "As far as actual tamales," he says, "I have never made one myself." He smiles, and shrugs. After all, that's what family is for: "My sister, my wife - they have all had a hand in it."