Hollister Downtown Association Street Festival
Chili Cookoff 2000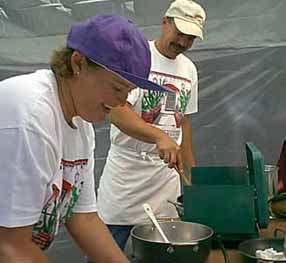 The Hollister Downtown Association held its 14th annual Street Festival on Saturday August 19th, 2000. Margaret Zuñiga-Healy and Gil Zuñiga, niece and nephew of Aurelio and Patsy Zuñiga, manned the chili cookoff booth for Progresso. Both looked spiffy dressed in Progresso T-Shirts. Cooking had to be done entirely from scratch in the booth. The Progresso team started early in the morning and was completed by noon. The chili was mild, had lots of tender meat and was delicious.
In addition to cooking, the booths had to be decorated. The Progresso booth was decorated with Mexican colors and a string of chili lights.
"We've had a lot of fun," Zuñiga-Healy said. "It's been a great, long day."