Progresso provides authenticity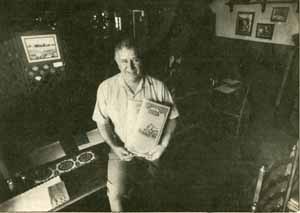 Aurelio Zuniga
3 out of 4 stars
By Lorin Wegand, Front Row, August 5, 1992. Brad Shirakawa/Chief Photographer.
HOLLISTER — Hollister has the distinction of being called the earthquake capital of the world, but it's the food at Progresso Tamale Parlor that will really move you.
A family owned restaurant doesn't stay in business for over 50 years without providing a standard of excellence to build their reputation. From the original small restaurant on San Benito Street to its present location in the old Goodfellow's Hotel on Third, three generations of Zunigas have embraced the traditional recipes and methods of preparation from the family's roots in Chihuahua, Mexico.
While the tamale is the crown jewel of the family inheritance, the other selections we sampled had the distinct quality of homemade cooking. This translates into a well balanced menu beginning with appetizers, including guacamole and nachos, and moving into some heavy, hunger-hitting combination dinners that feature flautas, both corn and flour, burritos rancheros, and chili verde. These and other three-item combinations come with salad, two tortillas, rice and beans. Smaller combination dinners going from $6.25-$7.25 (rice and beans only) and children's plates round out the menu.
Progresso's homey atmosphere invited us to take a leisurely pace, so along with the complimentary basket of chips and salsa, we created our own happy hour. I had a Corona, and interestingly, a small plate of lemon wedges accompanied the beer. I was told that lemon, not lime (as widely believed), is the authentic citrus served with beer in Mexico. My guest was more adventurous and ordered sangria, a refreshing Spanish drink of fruit juices and red wine that filled a huge goblet.
It's unlikely you'll need refills on salsa since it arrives in a syrup style dispenser you pour into the dipping bowl. Progresso's is the smooth, pureed kind, a creamy texture lightly punctuated with bits of diced onion and mild green chile. The salsa leaned on the mild side. Both flour and cornmeal chips layered a basket to the brim.
Unlike the complexity behind the preparation of each dish, the salad offered here is basic.
Given the large portions, we opted to compose our own two item combination. The beef taco was above average. The tamale, however, tops any in this class. If size is important, this was of jumbo proportions.
It had large, bite-sized chunks of beef chuck roll, with just enough fat marbling to stew tender and juicy.
As part of her combination, my guest choose a chicken enchilada, a rolled flour tortilla generously packed with shredded chicken smothered in melted cheddar cheese, and topped with mild red sauce.
Her chile relleno was perfected by an egg batter pocket holding the chiles and cheddar cheese, incredibly thick and fluffy, that told you it was made from scratch.
What really sets Progresso miles apart from the competition is a strict measure of quality control that managing owner Aurelio Zuniga oversees. Staple items used to make each sauce and dish from scratch, like chile powder, are freshly ground at the family farm on Wright Road.
This code of freshness is the stamp of authenticity that assures quality is synonymous with the family name. With a commitment to that principle, Mr. Zuniga ceased operations at the once thriving wholesale tamale business because he refused to comply with Food and Drug Administration rulings requiring the addition of preservatives to the original recipe.
At Progresso the flavor of the food also combines well with the flavor of the atmosphere. Dwarf yucca trees and sharp-needled opunta cactus landscape the front entrance to set the mood for Mexican cuisine. Inside, a small reception area separates two dining rooms, the larger of the two is designated non-smoking. Colorful Mexican paintings (for sale) by Aurelio Zuniga's wife, Patsy, unify the two dining areas. All of which serves to get you seated and comfortable and ready to experience the main attraction of this Hollister landmark. I recommend you bring a large appetite.