Wrapping up a Tradition
By Naomi Theodorou
Hollister Free Lance News, February 5, 1993

Liz Valenzuela
When you sit down to enjoy a steaming, spicy tamale at Progresso's Tamale Parlor, think of Elizabeth Valenzuela.
For all intents and purposes, Valenzuela is the "factory" at Progresso's Tamale Factory, a spacious, one-room building that stands almost isolated on Wright Road.
The building is over 55 years old and looks its age. From the road, a distinct look of abandonment would hardly alert a passerby to Valenzuela's calm, even-paced activity inside.
She works alone, preparing the ingredients for the tamales and then assembling them one by one. It is routine work but Valenzuela says she never gets bored. "I just like it. It's hard to explain," she said.
She recalls a time when four women one of whom was her mother used to gather in the room to prepare hundreds of tamales that Progresso's distributed to stores around the Central Valley and the Monterey Bay Area.
"My mother did this before me, and she taught me. I used to come out here when I was little and watch her," said Valenzuela, 33.
She joined the group herself when she was about 17, and has been working for Progresso's ever since.
Over the years, the original group of tamale makers have quit and now Valenzuela is the only one who remains to supply Progresso's Tamale Parlor with the traditional Mexican dish.
Valenzuela's cousin is Aurelio Zuñiga, owner of Progresso Tamale Parlor. Like her, Zuñiga inherited his ties to the operation.
Eighteen years ago he bought the tamale factory from his father, Vince, who started the business with Zuñiga's uncle Alfonzo in 1946.
From the factory, Vince and Alfonzo supplied stores around the Central Valley with homemade tamales, enchiladas and tortillas.
Seven years before, Zuñiga's grandparents, Maria and Aurelio, had bought the restaurant and kept the name "Progresso's," although their specialty was tamales.
"It's a tradition. We take pride in what we are doing. It's something that has been passed from generation to generation," he said.
All his children and many relatives have worked at the restaurant or parlor at some point in time, Zuñiga said.
Progresso's no longer delivers to retail outlets — only the restaurant can boast handmade tamales from the factory.
Valenzuela still makes the tamales exactly how Maria Zuñiga did when she decided she could make a business by selling them in 1939.
"We do it the old-fashioned way. We haven't changed it," Valenzuela said.
Making tamales is a labor-intensive process requiring preparation of corn paste, beef and chili sauce.
When a fresh supply of tamales is needed, Valenzuela's first stop is to a bin of dried white corn kernels, which she scoops up and soaks overnight.
After they are soft, Valenzuela grinds them into a fine grain. Mixed with lard and salt, the corn makes a paste called "masa," which forms the body of the tamale.
Meanwhile, she cooks beef by boiling it with salt and garlic.
Valenzuela also makes the chili sauce from scratch, first cleaning the chili pods, soaking them, grinding them and adding beef broth to make a thick, spicy sauce.
"It is about a seven or eight hour process because it takes time to do everything. It all has to be prepared the day before," she said.
When the ingredients are prepared and set before her, Valenzuela spends a day assembling the tamales. She spreads masa on dried corn husks, called "oja" or leaf, places a few in her palm, places a few chunks of meat in the middle and then paints the whole thing with a scoop of chili sauce.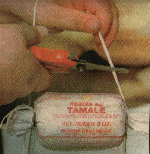 Hand-Tied Tamale
Photo by Brad Shirakawa
Valenzuela then places the bundle into a piece of tissue paper and places it in a holder where she can tie the ends with string.
Later, the batch of about 160 tamales gets steamed.
As much as Progresso's tamales mean to Zuñiga and his family, he is the "last of the Mohicans," he joked. His three daughters have no interest in running either the factory or the restaurant.