A tasty holiday in Hollister
In this San Benito County town, Christmas means tamales—and tortillas and chocolate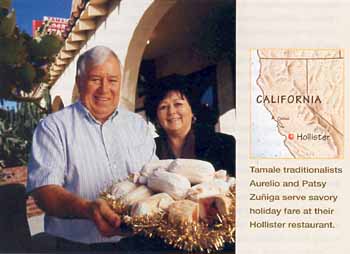 By Lisa Taggart
Sunset Magazine, December 2001 - As winter approaches in the town of Hollister, members of the Zuñiga family know with every chilly night they're getting closer to tamale time. Each Christmas, Aurelio and Patsy Zuñiga—with the help of many relatives—make hundreds of hand-folded holiday tamales filled with chile verde, spicy red chile with cheese, or cinnamon and raisins. It takes hours.
Aurelio will tell you they do it to honor tradition, making the tamales the same way his grandmother did, 62 years ago, when she and her husband opened a tamale restaurant here after they moved from Chihuahua, Mexico.
"In one day we make about 1,300. There's about 25 of us," says Aurelio. "We make so many because everyone wants to take some home."
Hollister visitors can sample outstanding beef tamales at the Zuñigas' restaurant, the Progresso Tamale Parlor. But tamales aren't the only treats in this San Benito County town, 45 miles south of San Jose. You can also pick up fresh tortillas and Mexican pastries, learn to make special holiday dishes, and tour a chocolate factory. Hollister's edible gifts, both spicy and sweet, abound in the holiday season.
A heritage of great food
Since 1939, the Progresso Tamale Parlor has been serving Mexican standards, including handmade beef tamales, using fresh masa and the same family recipes. And the family's tamale factory, now run by Aurelio's cousin Elizabeth Valenzuela, produces hundreds of tamales daily for the family restaurant.
Next door to the parlor, El Nopal Bakery produces fresh tortillas and Mexican pastries. Down the street, you can learn recipes for Christmas brunch or tricks for decorating gingerbread houses at Dorthy McNett's Place. The recently expanded cookware store, gourmet food shop, and home cooking classroom has all kinds of sauces—from apricot red repper to organic tahini—to complement any holiday feast.
Cap your Hollister food tour with dessert at the De Brito Chocolate Factory. Here, chocolate mixes with locally grown apricots and nuts in combinations that make for fine indulging and pretty gifts.
You may even decide to make a tasty day in Hollister part of your own holiday tradition.