Sunset Magazine Visits Tamale Factory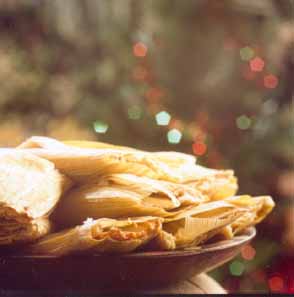 Sunset Magazine visited the Progresso Tamale Factory in December 2000 to observe a Zuñiga family tradition. Every Christmas the Zuñiga family gathers together at the tamale factory on Wright road to make old-fashioned hand-made tamales for friends and relatives. Aunts, cousins, and lots of nieces and nephews are involved in the tamale preparation. We arrive early in the morning to create up to 200 tamales. The process is labor intensive, but the tamales created that day are special. Instead of using the beef filling we typically use at the restaurant, we use chile verde, cheese with a spicy red chili sauce, and sweet cinnamon and raisin fillings. All are delicious. No one can eat just one.
Sunset Magazine will feature this annual tradition in its December 2001 issue. Look out for this very special edition. We are very proud to be a part of this highly successful magazine.
All photos are courtesy of Sunset Magazine.